My little buggie bug.
You turned a whopping nine months old just a few days ago and I can still remember so clearly the very moment you entered this world and I held you in my hands.  You took your time in the beginning, you were (asynclitic posterior-not at all fun for mommy) but then as soon as you were ready, you came into this world like a bit of a freight train.  I will likely bore you a million times over, as you grow, with the story of the day you were born and how our midwife barely made it to the house (only about 45 minutes before you were born).  Because this was truly the most life changing day for you mommy and daddy and because that day of your birth, you didn't really follow any of the 'rules'.  Although there is no doubt you are most like your daddy, I suppose your birth has predestined you to be a more like your mommy, who often times wants to not be like everyone else.  I  hope you want to always be unique, but not too weird.  ha!  As this is your mommy's motto, too.
These days you are not even remotely interested in crawling.  Crawling is so cute and if you decide to just walk and never crawl, mommy will indeed feel a little sad.  However, you do love to be in your little jumper.  (The best jumper on the planet which can be purchased here)  You are like a little Russian dancer in this contraption. hehe  You pretty much just zone into your own little world…talking…singing….and having just a good 'ole time.  You will easily spend two hours in the jumper if we allow….like the Energizer bunny…just going…and going…and going.  haha!  Your once, super pudge legs are beginning to trim up and get really strong from all the bouncing.  You also are gaining a tremendous amount of balance and can stand really well, almost on your own.
We do allow you to watch tv occasionally in very limited quantities.  You love this character called 'Harry the bunny' and you also love a show called 'My Friend's Tiger and Pooh', 'The Hive' and of course…to the somewhat dismay of your daddy and I, you do love 'Mickey Mouse', who for some reason mommy and daddy find very annoying…Mickey that is.  LOL!
You are sort of enjoying real food occasionally.  Avocados seem to be your fave by far.  However, for the most part, you just love to be lazy (hehe) and drink your bottle, which honestly is fine by mommy because she enjoys holding you and feeding you very much.
You are such a happy boy and rarely any trouble at all.  As of two days ago, you have not been quite yourself.  Then just today, only moment prior to finishing this post, we felt two front, upper teeth, that, have (as suspected) finally broken the surface.  Just another reminder of how you are growing so fast before our eyes.
We love you so much buggie boo boo and are just savoring every day with you.

I could not resist some more 'official' 9M milestone pics.  So here are my two faves.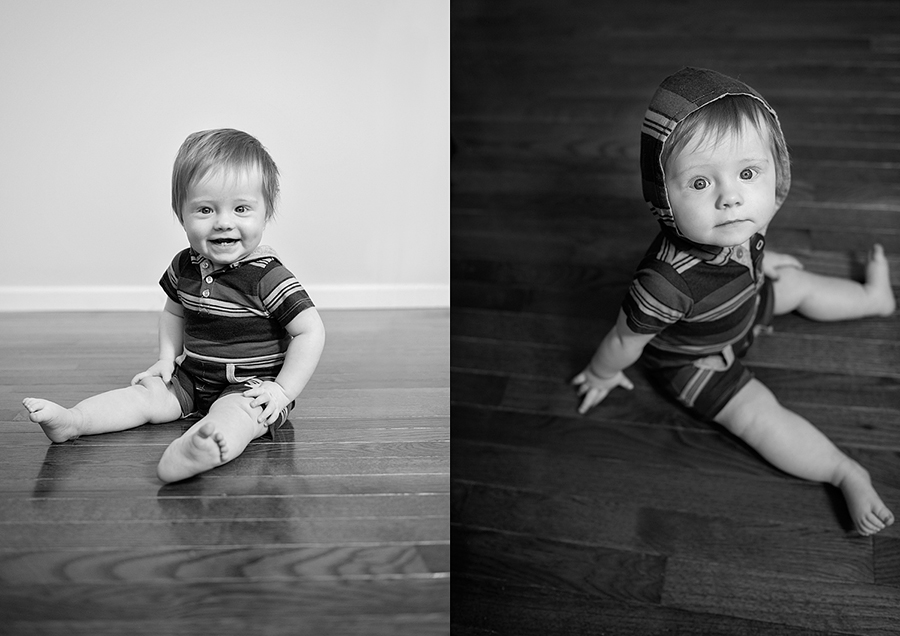 This post is a part of a collection of writings and blog posts by a few photographers.  To continue reading more posts such as this one, click here.
{ birth, newborn, maternity, baby, child & family photography in Houston, The Heights, Montrose, Bellaire, West University, River Oaks, Rice Village, The Woodlands and Cypress, Texas }
Come follow me on Google+
Baby Photographer Houston