I think that underwater photography make for the most stunning wall displays in basically any room! Here I have a collage of underwater photos I took over the summer showcased in Organic Bloom Frames.
The frames shown are a 12×18 Maryanne Twin, a 5×7 Meg, a 5′ Johnny, an 8×12 Ricky, an 11×17 Audrey, a 5×5 Lewis, a 5×5 June, a 5×10 Eva and an 8×10 Cary Grant
A conversation starter for sure. I chose to do black and whites for this display just because I wanted to keep it very classic and clean. If you wanted to add some color, most certainly color images would offer just that. Also, consider color frames for a splash of color with the b&w images, so it's not too over the top. These frames come in a multitude of wonderful color options. I'm sure we would find something just perfect for your space.
Here is a shot a little closer so you can see a little better the photos I chose.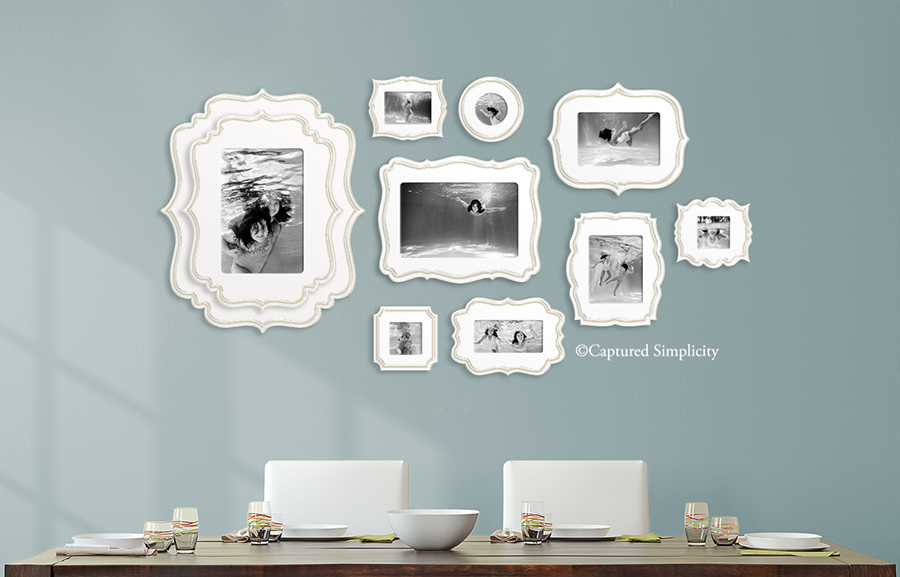 I'd love to design a wall display for you! If you are a current client of mine, let's talk! Photos are best when printed and seen on a regular basics.
© Captured Simplicity Underwater Photography
Houston | Austin | San Antonio | Dallas
{birth, newborn, maternity, baby, child & family photography in Houston, The Heights, Montrose, Bellaire, West University, River Oaks, Rice Village, The Woodlands & Cypress}