A spunky four year old and two, 2yr old twins….well, as you can imagine…NEVER a dull moment in this home!
So this image is what I would call a lifestyle photograph.  What do I mean when I say lifestyle photograph?  Well, it likely has a variety of meaning to different photographers, but I feel that lifestyle photography is an amazing blend of both photojournalism style photos and some 'semi' posed, traditional portraiture.  This means that I will direct our session….throwing out ideas….putting your family (or child/children) in a sort of general spot and then give a bit of direction….but then the rest is pretty fluid and spontaneous.
What is the point of such photography?  Well, it is about capturing more of the unexpected.  It is more about NOT everyone looking at the camera.  It is about documenting more emotion….more authenticity.  It is about life.
Think about your family in a storybook.  It may be a funny thought to many, but seriously…just humor me.  🙂
Think about each page of the book.  The images that would truly tell the story as it is happening.  It is unlikely that you would fill a book with images where everyone in the family is looking at the camera with the perfect smile.  That story would be terribly boring and quite frankly, the I would go so far as to say that the reader would view such a story as completely unbelievable.  Sure, you may have one or two of those….but the photos that would tell your story would be a variety of different images….and would include many different faces.  Serious faces….funny faces…happy faces….and maybe a sad face or two.   Hopefully, you can at least sort of see what I'm getting out here.
And furthermore….I want to photograph your family in a way that you can really display these images on your walls and enjoy them as not just a photograph…but possible as a piece of art.

In your home, such an image could be displayed as such…..this is a 20X30 Organic Bloom 'Fonzie" frame.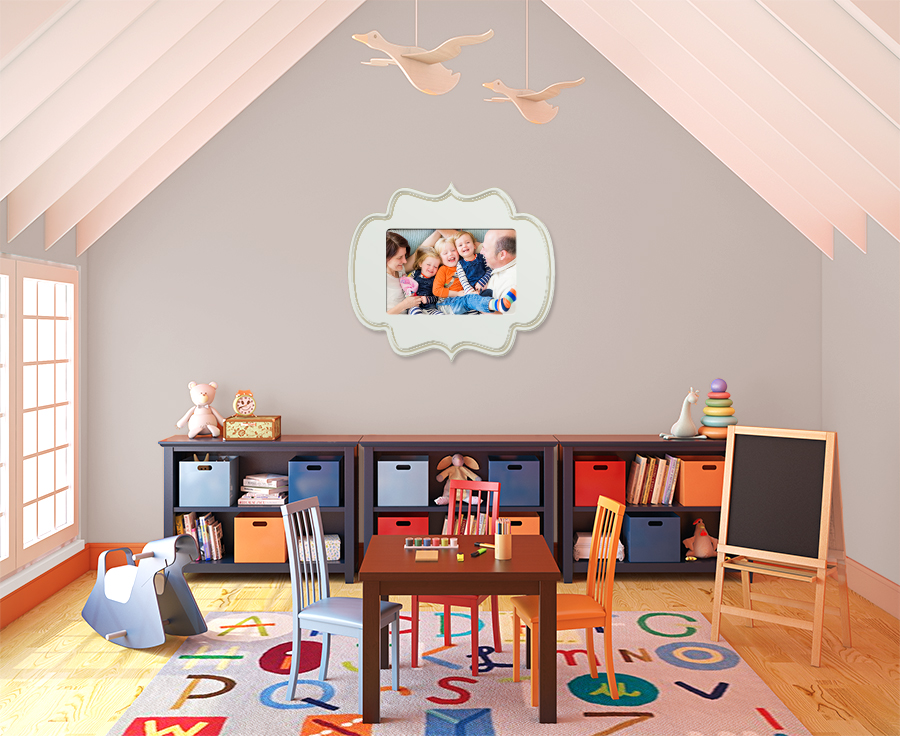 { birth, newborn, maternity, baby, child & family photography in Houston, The Heights, Montrose, Bellaire, West University, River Oaks, Rice Village, The Woodlands and Cypress, Texas }
Come follow me on Google+
In Home Family Photographs Houston TX