My sweet Cocoa.  You were such a great little doggie.  Always bringing a smile to my face on sad days.  You've been a wonderful sidekick for the last 16 years.  I recall the many days back from my college days when  you and I would make multiple trips each week to the pet store to get you a treat.  You were once so full of energy and life, but still a fairly calm dog overall.  I picked you out of the litter because you were the only puppy who would lay on your back and let me rub your tummy.  I recall that you were several years old before you actually barked.  I figure you just didn't feel the need to.  You learned how to ring a little bell that I dangled on the doorknob from a string to tell me you needed to go outside.  You eventually became a little lazy and would just go up to the bell and make a movement with your head, as if you had rung the bell, but you wouldn't actually touch it.  ha!  Oh how I wish I had video of that.  You loved riding around town with me….with your head out the window and the wind in your hair.  We could drive for hours and you would be so happy.
You've outlived all your siblings and were having us wonder if you were going to be the Guinness World record holder for the longest living dog.  hehe  You lived a very good life.  You did have to have three teeth pulled a few years ago and had become quite finicky with your food, but pretty much, you were very healthy for such a long time.  I think you and I both new for a while now that your life was wrapping up.  You have not quite been yourself for sometime now.  I would see glimmers of the old you occasionally, and would cling to them..thinking you might spring back one day.  However, that's not real life.  I thought you would simply go in your sleep one day…real peacefully.  It never occurred to me that I would have to make the decision one day to put you down.  It was by far the most difficult decision I've ever made.  Much harder than I every imagined.  But you could not walk anymore on your own more than a couple of steps at a time and you could not even stand up on your own anymore.  As heartbreaking as it was, I simply knew that your quality of life was just not as it should be and it was time.  We will miss you so much, but know that you are no longer suffering and in that, I hope to continue to find peace with my decision.
******
I had just taken a few photos of my son with Cocoa about a week before she really got bad.  I am so thankful for these images.  Bittersweet for sure, but still so grateful for the wonderful memories she has given me.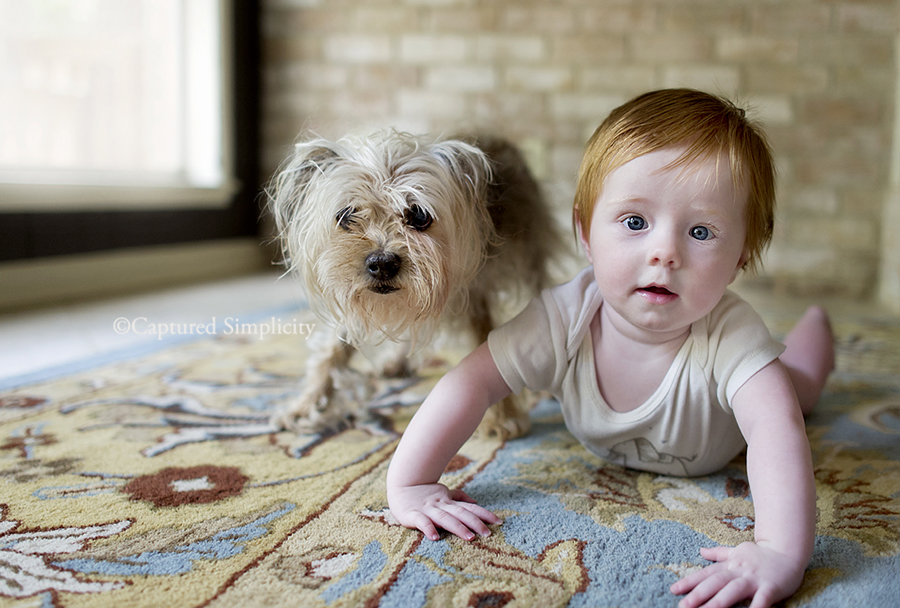 {birth, newborn, maternity, baby, child,  family photography in Houston, The Heights, Montrose, Bellaire, West University, River Oaks, Rice Village, The Woodlands & Cypress, Texas}
Come follow me on Google+
Houston Baby Photos