Whenever I am asked for my advice on photo sizes and fun wall display ideas, I am more than happy to oblige!  It is so much fun to come up with different designs, especially for adorable baby photos.  (Don't get me wrong, I love ALL my clients' photos, not JUST the babies 🙂 ).  Technology is such these days that you can even see exactly how your photos will look, say, on a staircase, in a dining room, in an office, wherever…it really is pretty cool!  Much more convenient than the days of having to order photos first (ask questions later! ha!), hold up each photo and do a balancing act trying to see which placement would look best!
Here is an example of three options I've designed for my friend who is looking to display photos from our sessions together above her stairway.
I'm sure you are wondering what the canvas sizes are for these displays.  No problem.  Here goes, with the largest sizes listed first.
Option A:  two 20X24's, two 12X16's and two 14X16's
Option B:  one 32X20, two 16X20's and three 10X10's
Option C: two 20X24's, one 16X20, two 10X20's and one 14X16
Which one do you like best? 🙂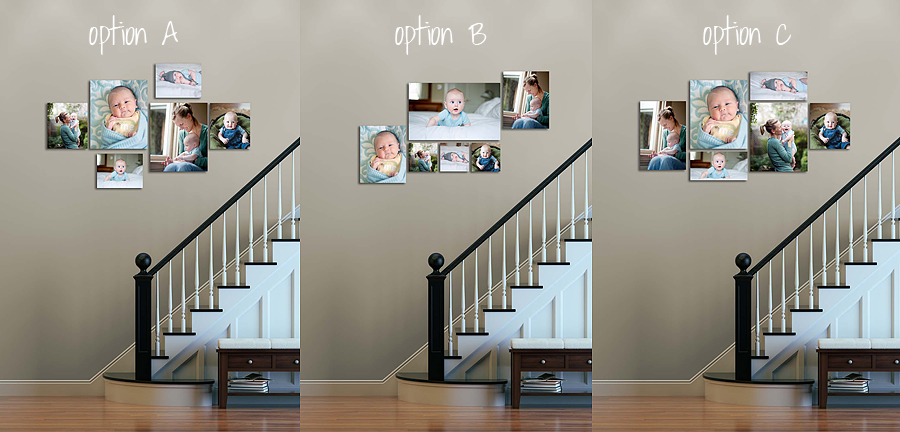 Baby Photo Wall Display
birth, newborn, maternity, baby, child & family photography in Houston, The Heights, Montrose, Bellaire, West University, River Oaks, Rice Village, The Woodlands & Cypress