I will say it until I'm blue in the face that these days I embrace and celebrate alert, awake newborn babies.  I know many photographers will cringe when I say this.  I get it.  I was there a few years ago.  The idea of photographing an bright eyed newborn…with there wild yoga posing as we will call it..hehe…and the unlikeliness of any direct eye contact….is well, downright scary to most.  However, especially since having our son, I have realized a few things.
1.  Newborns look totally different when they are sleeping and when they are awake.  I'd be willing to say that often times you would not even recognize the baby to be the same baby if I showed you a sleeping baby photo and an awake one.  They look so very different.  I noticed this very early on with our son.
2.  Photographing a sleeping baby is in many ways much easier than photographing a baby that is doing yoga moves.  It would be easier for an average joe to get some pretty decent photos of their baby sleeping with let's say their iPhone…I know, blasphemy.  ha!  In no way am I saying that there is anything that can replace a professional photograph or by any way devaluing the work of a professional newborn photographer, I am most certainly not.  There is no comparison.  I'm just saying that catching a photograph in motion is often times more of a challenge for a non professional.  And I love a good challenge!  So bring on those funny newborn faces.  😉  I'm afraid I'm getting tomatoes thrown at me now, I am sure (by other photographers)…so I will just move on. hehe
3.  While I agree that sleepy pics are amazing…they are.  I will most certainly get them when I can.  I surely got a few of our little buggie when he was younger, I think it is way more fun to capture the sort of funny faces that showcase personality.  It is amazing how a newborn already has a personality, but indeed they do!  Sure, most of their personality is serious…fussy…and a little dazed looking at times, hahahaha, but there are also moments of joy, humor and uniqueness that appears when you least expect it.  And the coolest moments of all are the ones where you look at that brand spankin' new baby and see yourself in them or you see your spouse in them!  I would venture to say that happens the most when they are awake.  Now those are some of the captures I want you to have.
So without further adieu….the real (and beautiful) faces of a newborn baby….who oh, by the way, simply refused to turn his head any direction other than the right.  hehe   😉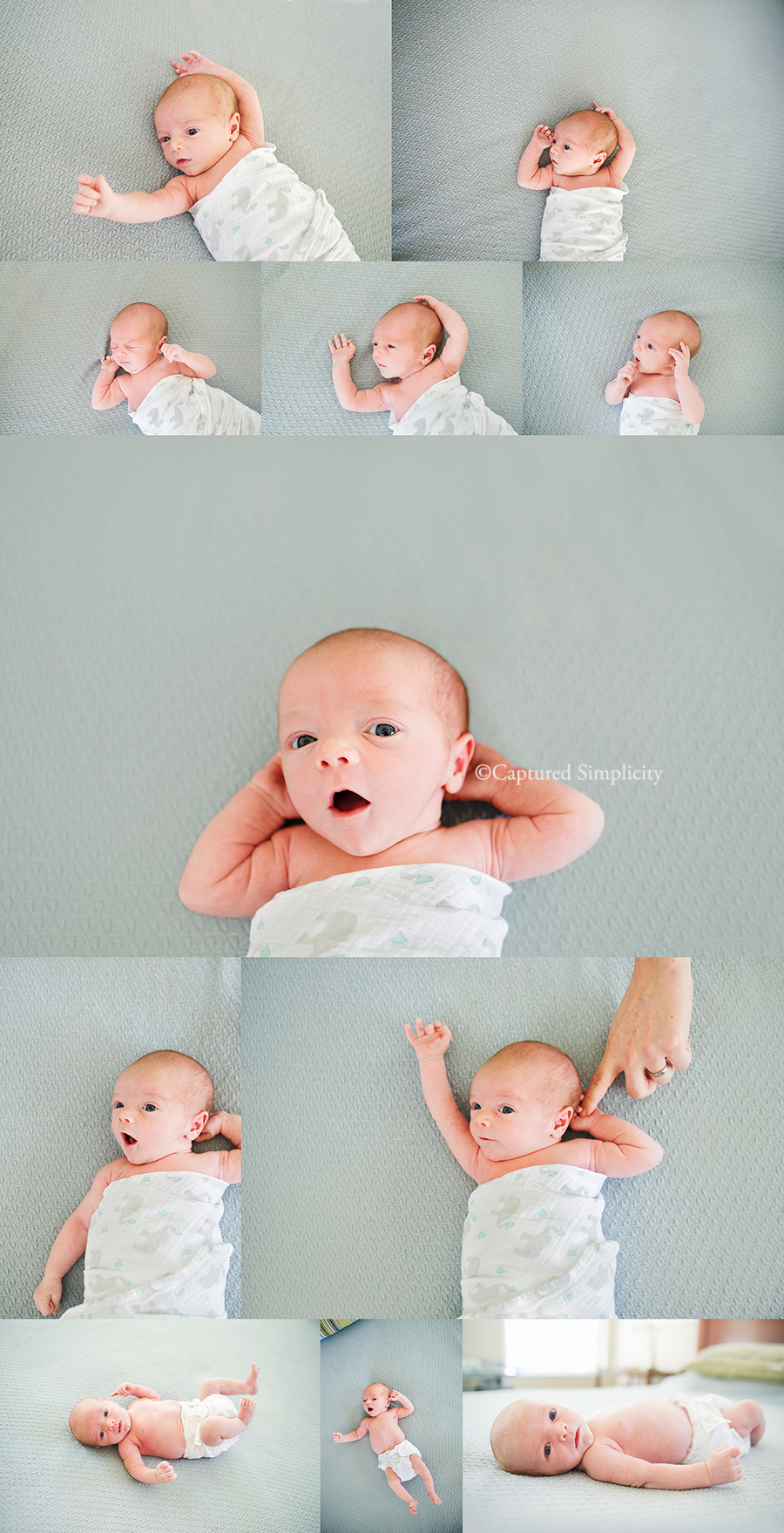 { birth, newborn, maternity, baby, child,  family photography in Houston, The Heights, Montrose, Bellaire, West University, River Oaks, Rice Village, The Woodlands & Cypress, Texas }
Come follow me on Google+
Newborn Photography Houston, Texas