How GORGEOUS are these Organic Bloom frames (AND the sweet baby in the pictures, of course)?!?!  I absolutely adore them for their beauty and unique characteristics.  Although they are works of art in their own right, they somehow manage to enhance photos without overshadowing them.  (This is something that, as a photographer, I definitely appreciate.

)  There are so many incredible frames to choose from with Organic Bloom that you will almost certainly have a difficult time making decisions on which ones to use!  To help you out (and because I just enjoy doing it so much!), I have designed a nursery wall display you might like to use for yourself!  (Even better, let me take your newborn, baby, toddler or family photos and I will create a custom, personalized wall display just for you…I promise you will love it!)
11×17 Charlie, 8×8 Lewis, 8×8 Ricky, 11×14 Mary Ann, 5×10 Gilligan and an 11×14 Cary Grant all in the color Cream Soda.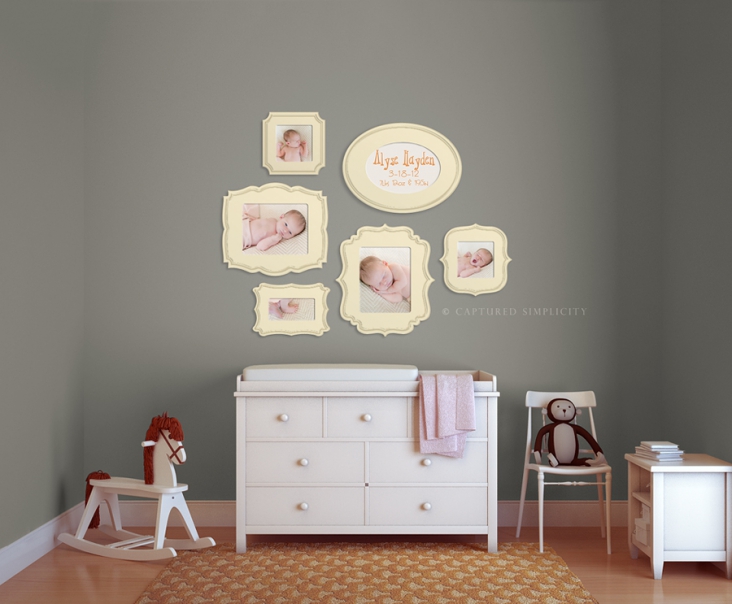 (P.S.  How precious is this little nursery too?!?!)
Organic Bloom Frames
birth, newborn, maternity, baby, child & family photography in Houston, The Heights, Montrose, Bellaire, West University, River Oaks, Rice Village, The Woodlands & Cypress
Google+