In light of a recent (sad) post I read from yet another talented photographer closing her business after only a few years, I thought it appropriate to consider the future of my photography business.  There are many reasons why businesses close and I'm not even going to begin to get into all of that.  However, most often it's due to not being able to sustain the business financially and emotionally.  I would like to reflect on myself and business for a moment.
After much thought, I've realized a few things:
Quality of life (spiritually, mentally and physically) is priority one for me, period.
I love photographing babies, kiddos and families. I mean, I really, really love it.  It really brings me so much joy to capture moments for others.
I make an effort not to compare myself to others.  It's the absolute best thing I can do for myself and my clients.  I want to be me while presenting galleries to my clients that are the best possible quality that I can offer.
I'm always striving to better myself and become the most efficient with this work so that I can continue to offer my clients a high quality product at a fair price that still reflects a respect for myself and my time.
I'm not the least bit interested in becoming anything more than a photographer.  And I want to be a really, really good photographer who has a successful and profitable business photographing people.  What I mean is that offering mentoring, training, etc. or anything of the sort is simply not something that I am at all wanting to pursue.  I'm always happy to help others along the way with questions about the business, photography, editing and such, as long as it does not interfere with my business.  My clients come first, period.  I just want to take beautiful, meaningful photographs while bringing home a respectful portion of wages for my family.  That in itself is a big enough undertaking if you ask me.  I sometimes feel that when we derail from what we really love, we enter into this dangerous territory of sorts and sometimes lose our way.
There was a time when I thought it would be the greatest accomplishment to be featured on someone else's blog or site; to have others in the industry to recognize my work as something 'worthy'.  As time has passed, however, I sincerely could not care any less about such things.  Sure, if it happens, great.  If someone seeks me out and desires to share my work on their page, I will be flattered.  However, I will not give any effort on my part to submit my work to any such things.  I just don't see the point.  Am I happy with my work?  Are my clients happy with my work?  If I can answer "yes" to both these questions, then that is all that matters.
I still do not have even an inkling of desire to have a 'studio'.  The more I photograph people, the more I realize that studio photography is just not for me.  At least for now at this stage of my life and business.
As for my blog, I've concluded that it will not be anything more than a showcase of my work with a trickling of personal stuff.  I feel I've had a few unsuccessful attempts to make it more than that because of what others were doing or what I thought would be fun, etc.  But really, at the end of the day, those things end up being more of a burden that takes time away from the most important pieces of my life & business.
I am a business.  I work for pay.  I am not a charity.  However, I am passionate about one project and that is Red Thread Sessions.  It is the only time I offer my services for free.  I am well past the point in needing or desiring to make 'deals' or offer discounts to anyone outside of this project.
Furthermore, I desire to be really good in a few areas.  I've accepted the fact that my calling is not landscapes, wildlife or über edgy or trendy work.  I'm a traditional girl who loves a classic look.  People (and dogs :-)), particularly faces of those, inspire me.  So, I want to take the best darn photographs I can of those sweet faces.
I realize that as a woman, I want to do it all.  But why? It's silly, really, and I'm making a tremendous effort these days to simplify and focus on what really matters.  Anything that distracts me from those things is being tossed aside.  I refuse to get bogged down with outside influences.  I feel grateful that I am realizing this now, fairly early in my photography journey.  The goal is to have a successful business for many years to come…one that consistently challenges me and also brings happiness to my soul.
**************
And what's a post without a photo!  Here is a very rare shot of my 'children' who never snuggle so close.  This is mainly because the alpha dog, Cocoa (on the left) normally is annoyed when Bandit (on the right) tries to invade her bed.  Cocoa usually growls at her just enough that Bandit gets the hint to stay away.  HA!  But Bandit has been not herself these days (her body is really showing signs of wearing down) and I know Cocoa senses this and is being a little sweeter these days.  Melts my heart.  I'm a sucker for my puppies, what can I say?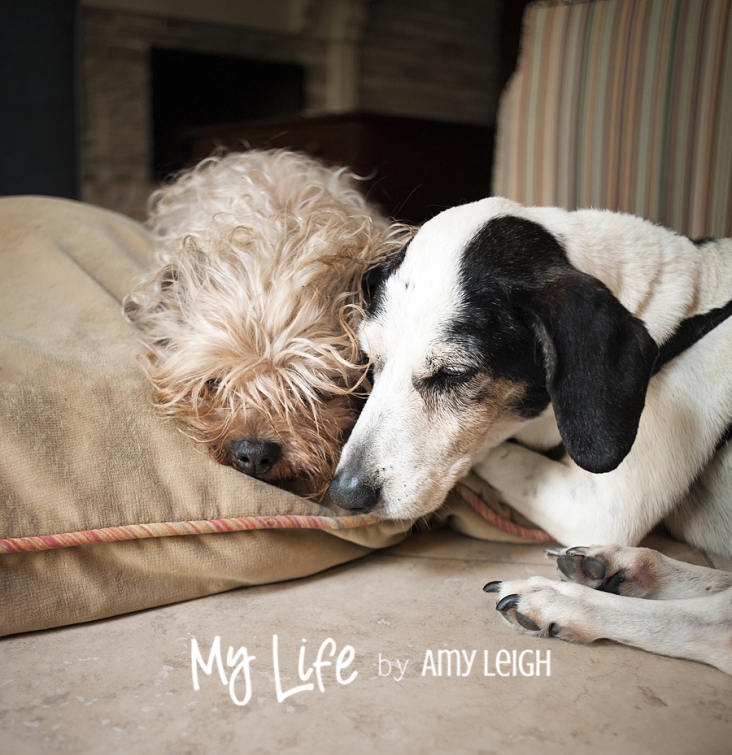 Houston Photography Business
birth, newborn, maternity, baby, child & family photography in Houston, The Heights, Montrose, Bellaire, West University, River Oaks, Rice Village, The Woodlands & Cypress
Google+