Just a little glimpse of a recent Underwater Maternity Photography session I did here in Houston Texas.  I have a few available dates for these this summer!  Be sure to contact me early to ensure you get a spot!  I could also be swayed for these in the cooler months of the year because the pool is heated.  Contact me and lets chat if you like what you see!  As a disclosure, I feel it's important to note these sessions are incredibly challenging for an expectant mom.  One not only needs to be extremely comfortable in the water, you'll need a lot of physical endurance to get through the session.  Being able to keep yourself underwater and looking at ease is difficult.  It will feel like a marathon.  However, as you can see, it most certainly can be done.  We spent about an hour in the pool and I can't even count how many times this momma went under for me in order to achieve all the images we got for her gallery.  Also important to note that I will not guarantee certain/specific 'poses' or shots.  Anyone looking to book an underwater maternity must be able to just go with the flow and only expect that I will offer you the best possible images of you underwater that we can achieve working together.  This momma had just that attitude and she rocked her session like a pro (and she does not even consider herself a 'swimmer'!  😉
These sessions must be scheduled and take place PRIOR to 35 weeks gestation.
Underwater Maternity Photographer Houston Texas
Be sure to check out more underwater photos this summer always posted HERE and HERE first 😉
I have so many faves from this session, but this one takes the cake.  Momma worked harder than you can imagine to get this shot.  Just perfection!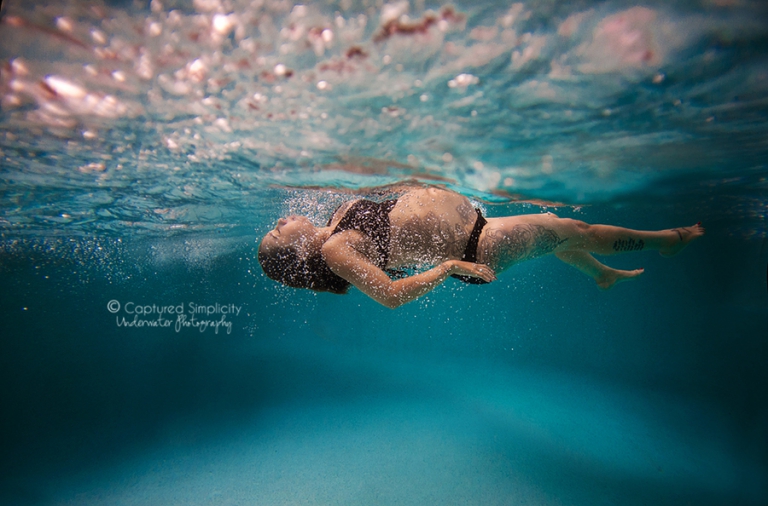 Underwater Photography
Houston | Austin | San Antonio | Dallas